Shanghai Library
Opened to the public December 1996.
Chief architect: Zhang Jie Zheng.
Building area: 11.190 square meters.
Center hall
Entrance hall with sculpture
Ancient Chinese Books, reading room.
Four major features in the design:
Free access
Multi-functional
Scalability and flexibility, and
Artistic design
The Shanghai Library can store 13.2 million books.
It is a research and public library with
20 large reading rooms with 3000 seats,
a 800-seat auditorium,
a 300-seat multifunctional hall,
two exhibition halls
four 100-seat seminar rooms for academic activity,
audio-video rooms and
music appreciation rooms.
Shanghai Library also contains
Institute of Scientific & Technical Information of Shanghai, integrated in Shanghai Library from October 1995,
Library Science and Informatics Research Institute,
Historical Document Research Institute,
China Cultural Celebrities' Manuscript library and
Arts Research Institute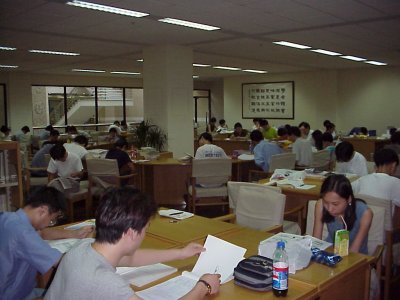 With the National Library in Beijing, Shanghai Library is one of the most upfront libraries in china around the year 2000. A group of large-scale public libraries are presently under construction or in the planning: In Beijing, in Shandong and Anhui provinces and in Shenqang, Nanjing and Shenzhen cities. The rapid growth of the library sector in China now tells that more than 2.600 public libraries are functioning on county-level or higher, and presently a new library is being opened in China every four day (China Daily, August 13th 1999)
Rev. by Pierre Evald – 27-09-2000